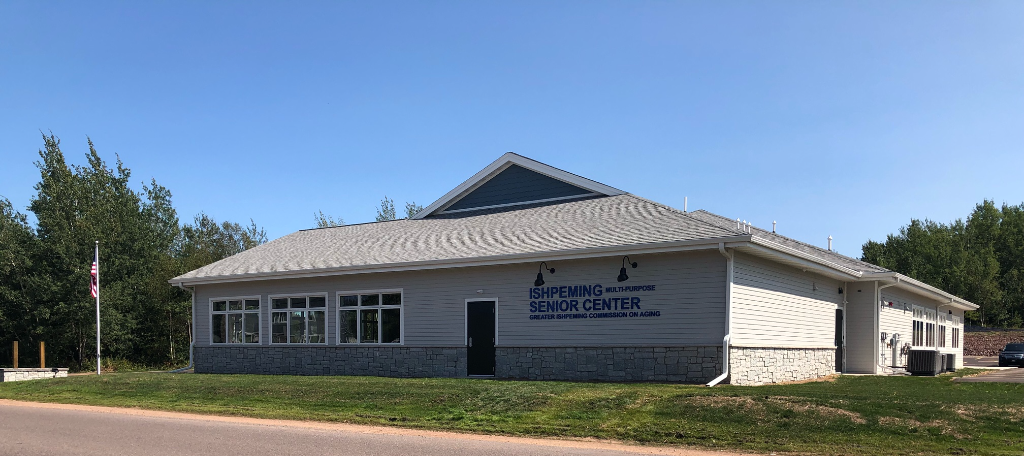 Home
The Ishpeming Multi-Purpose Senior Center is operated by the Greater Ishpeming Commission on Aging (GICOA) a 501(c)3 non-profit corporation.



We provide services and programs to seniors, 60 years and older who reside in the City of Ishpeming and the Townships of Ishpeming, Tilden, Ely, Champion, Humboldt, Michigamme and Republic.


Special Events in September:
Sept. 8th-Bingo Bonanza at 12pm
Sept. 7th-

Ishpeming Library Day-Book Club book pick up at 11am

Sept. 11th-

Jean Kohtala's Fall Workshop at 1pm

Sept. 12th-

Bus Trip to the Ishpeming Cemetery with Karen Kasper at 10am

Sept. 15th-Bell Bingo at 12pm
Sept. 22nd-Coffee with the city mayor Jason Chapman
Sept. 27th-

BusTrip to Brockway Mountain-departure at 8am
Meals:
Thursday's Meals
Sept. 7th-Italian Sub with chips
Sept. 14th-Meatloaf with Mashed Potatoes/Gravy
Sept. 21st-Spaghetti & Meatballs
Sept. 28th-Soup and Sandwich
Michigamme Meal
Every Tuesday at 12pm at the Michigamme Township Hall-call to get on the list. Call Nancy to get on the list at 906-869-1557
​​​​​​Humboldt Meal
Sept. 13th at the Humboldt Twp. Hall at 12pm. Participants can bring a dish to pass.
​Champion Meal-
Sept. 20th at 12pm at the Redeemer Lutheran Church-call 906-485-5527 to get on the list.
​​​​​​​Republic Meal​​​​​​​
Sept. 28th at the Riverview Heights at 12pm. Call the Ishpeming Senior Center to get on the list at 906-485-5527
Health and Fitness:
Sept. 5th & 19th- Diabetes Education with Sarah Smith
Foot Care Clinic
September 1st & 8th at the Ishpeming Senior Center
Blood Pressure Clinic
​​​​​​​September 15th at 11am
Fitness
Monday-Low Impact at 10am
Wednesday-Strong Body at 10am
Friday-Chair Yoga at 10am
Class Get Togethers:
IHS Class of 67' Sept. 7th at 2pm
IHS Class of 56' Sept. 18th at 12pm
IHS Class of 73' Sept. 26th at 12pm